Pangkor Island is a somewhat untapped gem of a place. We love going to Pangkor Island every year, for about 3-5 nights. We always go with some friends and each time the kids have a blast. Pangkor is very affordable, easily accessible and has something for everyone. Try and see for yourself!
Pangkor Island (not to be confused with Pangkor Laut, which is a smaller island just next door) is not as popular as the Perhentian islands, Langkawi or Penang. You can't really snorkel at Pangkor, there are no duty free shops and it is not touristy. But if small, laid back islands are your thing, then Pangkor is the perfect place to try for that quick and easy getaway.
Let's explore the island
You need roughly 20 km to drive around the whole island. There are several popular beaches and a bay where they build wooden fishing boats. You'll also find some Malay and Chinese kampungs, complete with mosques and a Hokkien Society Centre. The best way to explore Pangkor Island is by motorbike, as rental is only around RM25-40 per day. You can also take the local pink taxis. At the main jetty, streets are narrow and some of the roads are steep. It's a great place though to buy fresh seafood in the morning, as well as some excellent local dishes like wantan mee or chee cheong fun. You can also explore the small remains of a Dutch fort here.
Accommodation on Pangkor Island
We stayed at a 2.5-star resort called Pangkor Seaview Hotel, where we paid about RM220 per night for beach front chalets. There is a duty free chocolate and perfume shop next to Seaview, as well as grocery stores and a supermarket. We are quite a low key family, so as long as the showers have hot water and the room has aircon, we're more than satisfied. If you like more luxury, you can stay next door at Sandy Beach.
Seaview has got a pool, a restaurant, a nice sandy beach and a sea, that is shared with the luxurious Pangkor Laut Resort. We kayaked over to Pangkor Laut in 15-20 minutes. Be wary of currents though! Have a look at our review for Pangkor Laut Resort here. For a Pangkor Island experience in the jungle, have a look here at our review on Tiger Rock resort.
Activities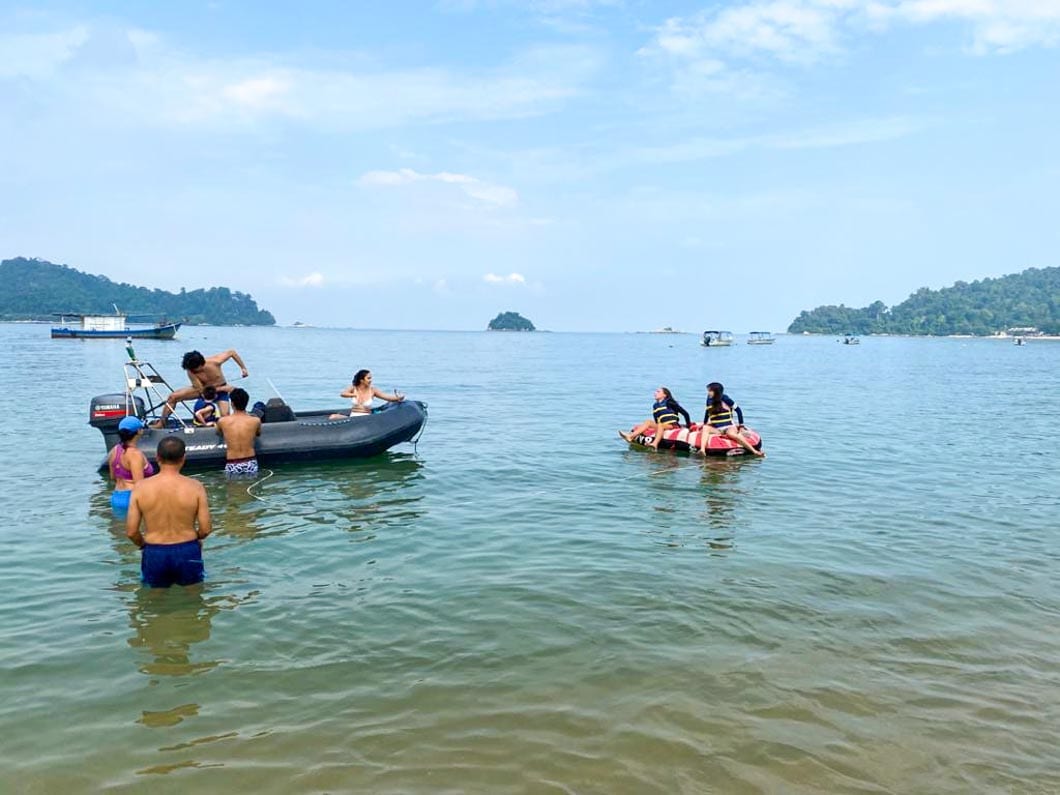 The resort offers fishing and kayaking. There are also third party operators at Pasir Bogak, who run jet skiing or tubing/banana boats. We hired the kayaks most mornings (single and doubles) and the kids had a blast – the kayaks are brand new and very easy to maneuver. On the first day we took them all the way to the end of the island – exploring beaches on the way, a total trip of 2.5 hours. Needless to say the kids were exhausted but very happy. The next morning everyone was still tired, so the kids just went nearby by themselves. We love the fact that they are at an age where we can give them a little independence to explore (there were 14, 13 and 11 year olds in the group).
A bunch of us took the kayaks to fish as well. Just find a spot and drop in a line! For more information about fishing, check out their website here.
Other kids activities on that same stretch of beach include a multi-jointed water bouncy castle, found opposite Vikri Resort.
On the next beach called Pasir Panjang, you can find the Turtle Conservation centre, which charges a few ringgit for visitors. The kids were suitably impressed and it's well worth it to support their efforts. The next beach after has got good night stalls selling things as coconut shakes and local delicacies like appam and ikan bakar (bbq fish). Check out Teluk Nipah Beach for some cafes and restaurants – they even have ATV for rent there!
Some tips
Please keep in mind that there might be jellyfish. Usually, they're seasonal and only appear between July-September though. Keep a pair of tights and a long sleeved rash guard to help safe guard against stings. If you do get stung, you could use banana peel to wipe your skin.
Don't forget to visit nearby Lumut and Ipoh on your way back to KL. Just five minutes from the highway, you will find the highest waterfall in South East Asia! There is even a famous cave called Gua Tempurung for the more daring – ensure you book ahead for a guide. More about Gua Tempurung here in our review.
You can find other challenges for those physically fit, such as the yearly Chapman Challenge from 25 to 27 June 2021, hosted by Pangkor Laut Resort. Hopefully, the Pangkor Run will happen this year as well. Please keep an eye on their Facebook page here.
How to get to Pangkor Island
It takes three hours by car to get to Lumut and just 10 minutes from the mainland by ferry to get to Pangkor. To get there you drive north on the North-South highway and get off about 1.5 hours later at exit 135 Gopeng. A further 1.5 hours on some medium roads and you arrive at Marina Island Jetty. Do NOT go to Lumut jetty, as it takes much longer to get to Pangkor.
Pay the daily parking fee of RM15/day (though this goes up during tourist season), and buy a round trip ferry ticket for RM14 (adults) and RM5 (kids). More info here. If you arrive early at Marina Island, do check out the small water park and other attractions – click here.
You can also use the Teluk Gajah way – which takes about the same time but has got smaller roads – to see the super interesting Kellie's Castle.