For those of us who travel regularly, jet lag is an all too familiar feeling. You know how it gets to you, just like you know when you have caught a cold. With kids, though, it takes a whole different form. In this guest post Becs Viveash describes that feeling spot-on through her amazing photos and words that took me straight to that cool morning. Enjoy!
***
Going home to England  to visit family is up there with flying to the moon, bathing in Cadbury's chocolate and being able to talk to unicorns. So basically, brilliant.
Jet lag mornings
Flying alone with kids, no big deal. I've pretty much nailed that now. But where I do come unstuck slightly is 'The Morning of the Jet-lag'.  Our day begins at 4.27am (not that I'm clock watching or anything) and I've already read every story available within reaching distance and I can't keep a lid on the 'chatter' any longer so we creep downstairs.
The sun is just peeping over the hill. It really is stunning. We all stand in a row and watch, the kids are quiet for about 10 seconds. (which is hours in the adult world) We're wearing borrowed jumpers and PJs. Our trousers are tucked into our socks and no one wants to take their hands out their pockets.
Daisy finds her princess crown and I start to spread the somewhat solid Nutella (cold countries hey?!) on homemade bread.  We are now in the 'pre-CBBC' world where there's no telly for another 2 hrs so Nate rummages through the cupboard for some of my childhood board games. I regress about 30 years and immediately pick my colours for a competitive game of Downfall.
By now its 5.30am and Nate and Daisy's voices are creeping up a notch, moving from a whisper to sporadic shouting, with the pure excitement of just being here. There's nothing for it but to head out. We put on more layers over our PJs, I hunt around for my mum's wellies and we scurry out the back door. The grass is wet. Spider webs glisten and the pigeons are waking in the trees.
The sun is so low it makes our shadows touch each other. Out the field, up the hill and into the playground where the kids can make as much noise as they like. And they do. I breathe out a sign of relief. By about 7am we walk back with rosy cheeks, just in time for the rest of the house to wake up and the kettle goes on for a much-needed coffee.
These Jet-Lag mornings are tough. And the only way to get through them is to look forward. But I wouldn't swap them. I won't swap them for the world.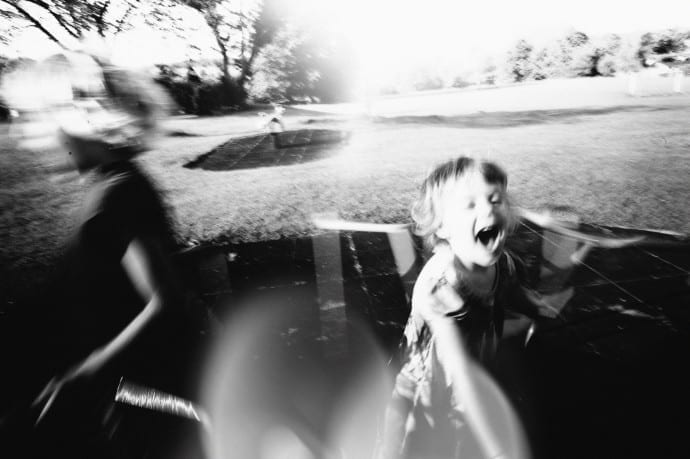 This post was first published at Viveash Photography.