Many of our followers are familiar with The Batik Boutique, a social enterprise that creates sustainable jobs for women in low-income areas locally – and that has also managed to take traditional Malaysian batik and turn it into beautiful, modern accessories and clothing. They have recently launched batik workshops, and we had a chance to get a sneak peak and unleash our inner batik artist. Well, at least dip our fingers in dye.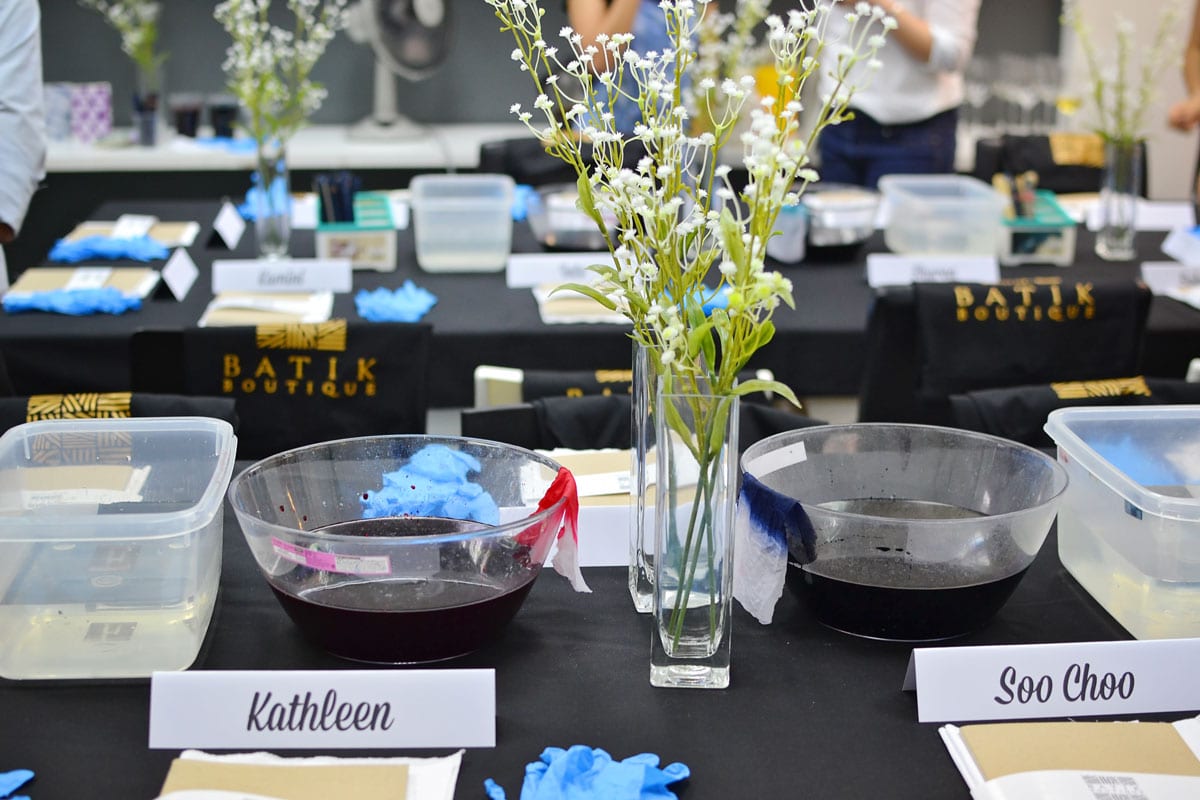 We took part in an itajime workshop. Itajime is a tie-dye method whereby geometric patterns are created by folding the fabric, tying it with wooden sticks and rubber bands and dipping in dye. After a quick introduction we got to work, trying out different patterns on test pieces before starting the work on the actual product: a notebook.
This type of batik is a great way to start: anyone can fold, clamp and dye and the results are always pretty. I have tried my hand at the traditional wax batik too, and let's just say that is whole different story and for those with a steady hand!
As you can see from these pretty samples, there are as many styles as there are artists. No piece is the same and we had great fun comparing the results of our folding and clamping.
While our beautiful pieces were drying we were give a quick overview of The Batik Boutique. They aim to disrupt the cycle of poverty by empowering hundreds of artisans by offering them a fair and sustainable income producing beautiful, high quality fashion and gifts for both consumers and corporates. And of course, we had enough time to look around the showroom and do a bit of shopping!

If I already didn't have this clutch in a different colour, it would definitely be on my list to Santa:
And here are the final products of the night! Not bad, I dare say.
Batik workshops can be organised for groups – we think they would be great for birthday parties, friends nights out, farewell parties or any other occasion to do something with your hands with a group of friends.
Read or previous post on The Batik Boutik here.
*We were invited as guests of The Batik Boutique. The opinions, as always, are our own.
Save