Our family have been fans of Anantara Hotels and Resorts ever since our first stay in Anantara Mai Khao Phuket Villas. When we heard that it was opening in Desaru Coast, we couldn't wait to book in. We checked in six days after they reopened, during the weekdays.
It was really quiet and felt almost as if we had booked out the entire resort! When asked, we were told that weekends are when the resort is busy. The staff greeted us at check in with QR codes and temperature checks (the 'new normal'). They also gave us antibacterial wipes. We booked into a one bedroom lagoon pool villa, as we really wanted to get into a pool but didn't know if the general pool would be open when we visited. The villa is a double story villa and is absolutely amazing.
Pool's open!
It was a nice surprise to find out that the general pool had only reopen to guests at 4pm the day before we arrived. We spent every morning there and we were the only ones! We'd move back to our own pool in our villa mid-morning, as by then the sun would be blazing.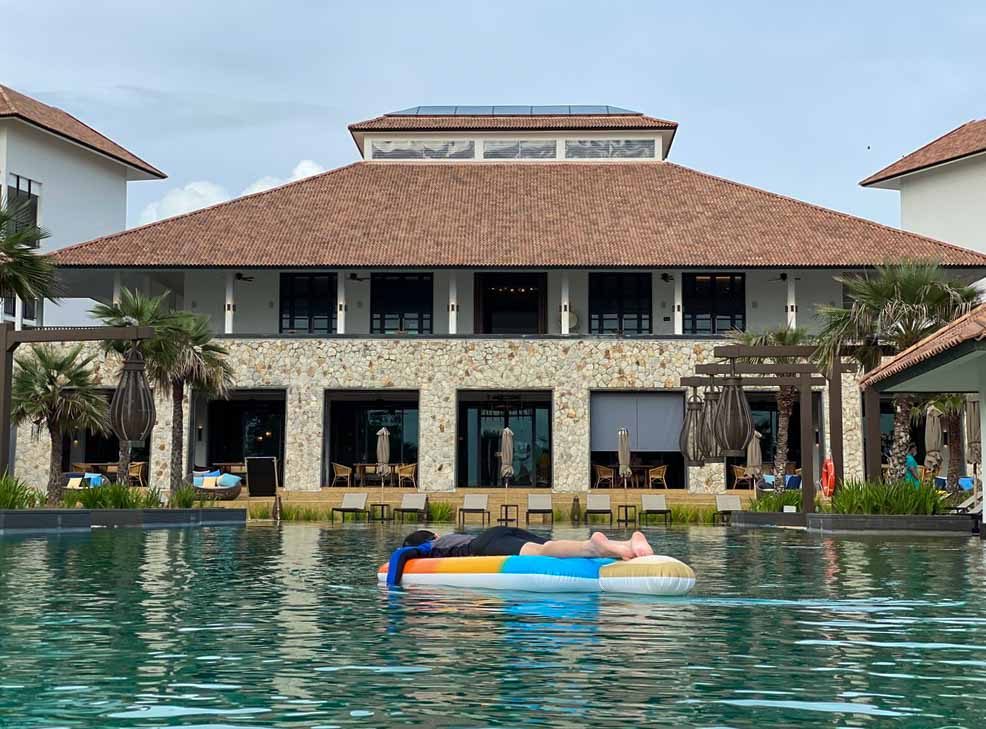 Thai influenced food
Lunch was included in our stay and you get to pick an appetizer and a main from their menu. This was a very welcomed added benefit as part of their reopening deal. The food is very heavily Thai influenced, as Anantara Hotels and Resorts are after all from Thailand. However, if you can't have spicy food, just let the server know and they'll make it non-spicy for you. During our visit, only one restaurant was open to guests and the menu is limited.
Great for teens
The Teens Club here has got to be the best one we've come across yet. There were pinball machines, a movie room, the requisite PS4 and Nintendo Switch, ping pong table, foosball and games. My son and husband spent quite a bit of time here – as you can imagine!
They also had a movie night out in the open, when we were there. The set-up was really nice with a giant projector screen and bean bags lying around (with appropriate social distancing of course). However, we didn't even manage to catch the start of the movie as they were having problems with the WIFI and couldn't start on time. We could have waited, but the bugs and mosquitoes were just too much and we were getting bitten everywhere. The hostess did bring over mosquito coils and placed them next to us, plus mosquito repellents. They just didn't work. The hostess did say it was probably cos it had just rained earlier on in the evening and as such there were bugs aplenty.
The beach
The beach, while it isn't like the ones you'll get at say Pulau Perhentian or Pulau Kapas, was still great in our opinions. It was just unfortunate for us that the red flag was up the entire time we were there. While we didn't swim in the sea, we did stroll along the beach looking for seashells and digging holes in the sand. The beach was also completely empty, which was really nice for us.
There were certainly shortcomings during our stay, as the resort wasn't fully operational and hence, we couldn't experience it completely (the spa and their signature Sea.Fire.Salt restaurant were still closed). Contractors were still doing landscaping. With every change of crew, it seemed the SOPs were different too – we got hard copy menus, then we got QR codes and finally we got paper sheets to tick our choices. Some servers would place our meals on the tray next to our table for us to take on our own. Others would serve us directly on our table.
Even with its shortcomings, we will not hesitate to go back once the resort is fully operational as it's early days yet from when they reopened with the 'new normal'. We left Anantara Desaru truly relaxed and slightly tanned! More info here on their FB page.
Thinking to take the kids for some surf lessons? Have a look here at our review for Anchoviz Industries!