I first tasted the wonders of tropical plants in Malaysia some 30 years ago, when my father worked in Kuala Lumpur in the late 1980s. The whole family was plant mad, and especially my mother had fallen in love with orchids.
During a visit I asked them where my parents got their plants from and they showed me the delights of the 'Valley of Hope' plant nurseries in Sungai Buloh.
I never forgot about the nurseries and when the opportunity for work in KL arose in 2015, I wanted to reignite the memory of reprising the nursery visits of then. The 'Valley of Hope' has been visited many times since 2015 and the following is typical of one of them.
A visit to the 'Valley of Hope'
It's still early-ish (9 am) in the morning and I am on the North-South freeway, bound for Sungai Buloh's 'Valley of Hope' at Jalan Lembah.
At a lifted boom gate I pass a relaxed but alert security guard seated nearby. A smile and small wave while I drive inwards at a slow pace. Parking is available on either side of road. You can also keep driving under the large blue sign, inwards to 'plant wonderland'.
Welcome to former leper colony 'Valley of Hope' and now host to many plant nurseries. Plant sales started taking off during the 1960s after an initiative by Dr K.M. Reddy, director and head of the Sungai Buloh leprosy settlement in 1959, introducing plant growing and gardening for the residents. Most of the buildings are retained and many are still being used, for community, living and the work of growing plants.
Our slow car pace offers an easy view being greeted by big, small, short, rotund, shiny, varying greens and variegated foliage. Flower colour and shapes ebb and flow along this skinny repaired road, as far as the driving eye can see. Large trees casting shadow line across the area, a soothing cover, whispering to pull the car over and walk, which I do.
Vegetables and herbs at Fang Kiat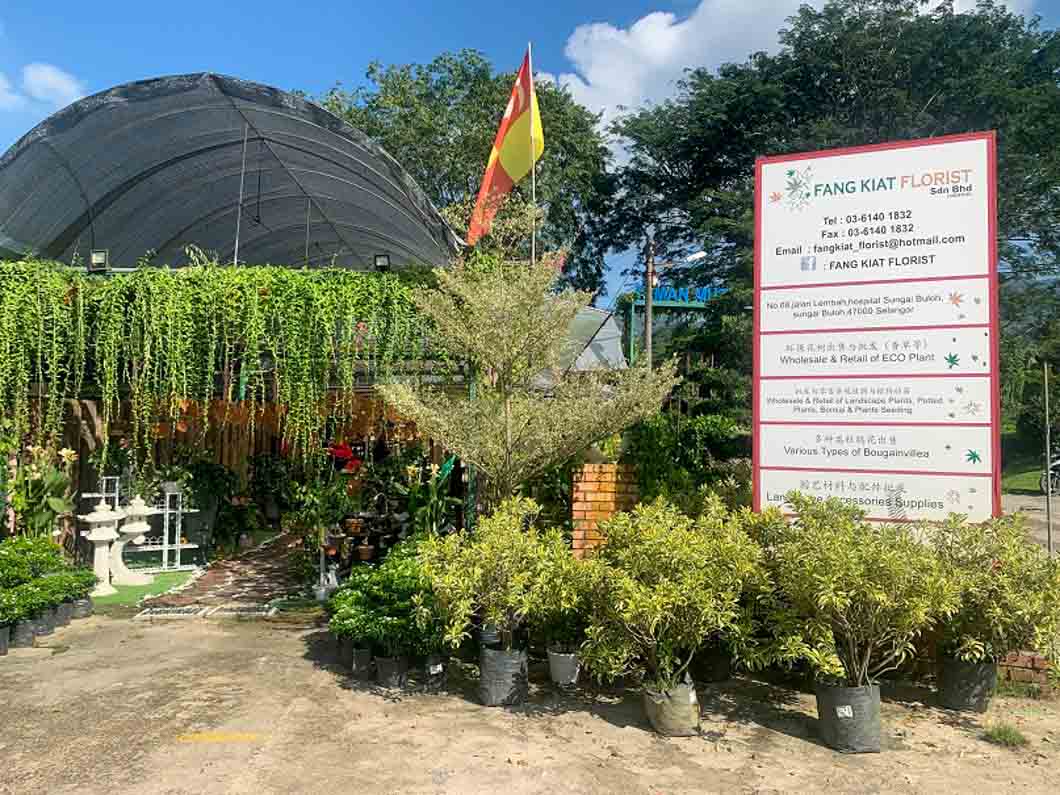 My first stop is Fang Kiat Florist, located at a prime location on the way in. Prices are marked on all items and plant names are clearly displayed. Staff is present, but are almost invisible while we're 'window shopping'. It is clean and well maintained throughout, with their visitor toilet being one of the better ones along the strip. I was hoping to buy some of their potted vegetables and herbs, but to no avail as Christmas displays were now set up. They should be back though in February, after the Chinese New Year displays in January.
Orchid heaven
I decide to take the car again and drive towards Lot 505. If you'd continue towards the end of the road, orchid world presents in every colour of the rainbow. Tiny and discreet walkways offer up some unique 'orchid art'. There is a roadside café nearby where you can sit down to quench your thirst.
Not today though – instead I turn right up the side street of Lot 505 and slowly cruise up the hill. I park under the big shady tree opposite my destination.
Fair prices at Lot 505
I've gained an affection with Lot 505, born from the early days in KL some years ago. Lot 505 was one of the few nurseries that didn't try to double the price on plants due to me being a foreigner. They also provide good discount on bulk buys. It is an easy place to do business with, due to an efficient and relaxed service, and the staff are happy to take bankcards.
Lot 505 is located on both sides of the road. The main office is on the right, and landscape supplies, tubs and more plants are sold on the left. 
Cheap plants at home-based nurseries
At any home-based nursery you'll find sun-hardened plants at a reasonable price, with many on sale for less than RM10. Some Manglish spoken with the staff here, mostly finger point at plants, head nods and slight shakes. We work things out.
Pure beauty stands out with Ixora coccinea which is almost 100% in flower. It is quite a rare plant and will cost you between RM25 – RM40. Just shop around though, to get the best price.
Loaded up with some of the cheaper RM10 plants I leave. I turn left for a two-minute drive to road's end and I'm greeted by a production nursery with plant prices at wholesale rates. A wide range of plants here, tall and little, sun-hardened and shade-lovers.
Big blousy white Mussaenda flowers are like magnets to the eyeballs and many advanced plants including durian trees. It's always worthwhile to explore in the downslope areas of this nursery. Payment here is made in cash only. Some nice decent views out to nearby hills adds another experience to the trip. Follow the top road back, as it terminates near the big blue sign.
There are almost a 100 plant nurseries in the colony – I have only managed to visit about half. Just take your time, wander down the back and to the rear of this nursery wonderland as you never know what hidden treasures are waiting for a new happy home life!
Some handy tips
The majority of nurseries in Sungai Buloh take cash only.
Some – but certainly not all – nurseries have pricing on the plants.
These nurseries generally have bankcard facilities.
Plant prices advised by staff can vary dramatically from nursery to nursery. Many of these staff work on commission basis. Is in their interest to talk up prices. Shop around a bit to get a feel on reasonable price range. Some will bargain, but many won't.
How to get to the Valley of Hope
Turn left after the North-South freeway toll and exit, have the Sungai Buloh hospital on the right side and keep on driving past the hospital, until the majority of the plant nurseries are spotted on the hospital side. Slow down in anticipation of a left hand turn about 100 metres further along, where you will find the entrance to the nurseries. Have a look here on Google maps for the exact location.
Which plants are good to help purify the air at home? Have a look here!
This article is written by Chris Round.