Plant-based meats have taken over the world in the past two years – and it's not just about veganism being in vogue. As more consumers consider a meat-alternative future – for environmental, ethical, health, or taste reasons – plant-based food options have been springing up and added to menus all over the country.
If you're on the hunt for the next green grub hotspot, we've got a list of the seven best places around Malaysia to grab your favourites! 
1. Sala
Get your Tex-Mex flavour fix at Sala, a Latin-inspired vegan restaurant that packs a punch with its delicious offerings. For vegan options that taste so much like meat you can't tell the difference, we recommend the delicious Chick'n Ranch Wrap. With an option to smother the wrap in delicious sauces such as vegan ranch, vegan honey mustard and sweet Thai chilli, this delicious treat is also served with coleslaw and fries. This plant-based treat is as indulgent as it is satisfying.
You can find Sala outlets in Hartamas, The Row, Desa Park City, Mont Kiara, Bandar Rimbayu, Avenue K, and Alamanda.
2. Da Bao
It's time to tapau (or dine-in) from Da Bao! This chic hangout spot is known for serving up unique and delicious twists on the Malaysian-favourite bao. If you're looking to go plant-based, give their famed Phuture Cheese-bao-ger a go – stuffed with a deliciously juicy plant-based patty that's smothered in vegan cheese, this treat will keep you coming back for more.
And if you're looking for a more classic bao flavour, the Spicy 'Chicken' Bao with sweet and sour pickles served with spicy garlic aioli is a treat that's hard to beat.
145, Jalan Petaling, City Centre, 50000 Kuala Lumpur
3. Thursdvy by Hijau KL
Famous for plant-based Japanese-fusion comfort foods that are good for the body and soul, you can't go past Thursdvy by Hijau. The Hijau Chick'n Burger is a must-try, with its juicy plant-based chicken patty smothered in gooey vegan cheese… we can hear you drooling already.
22, Lorong Datuk Sulaiman 1, Taman Tun Dr Ismail, 60000 Kuala Lumpur
4. LeFood
Attention Subangites! Enjoy a healthy meal at vegan-friendly restaurant LeFood. This place prides itself on serving freshly cooked meals with quality and natural ingredients. Try out their delicious HFC Classic Chick'n or Spicy Chick'n burgers for a wholesome meal that will surely satisfy.
No. 7G, Jalan SS18/1B, 47500, Subang Jaya
5. V-life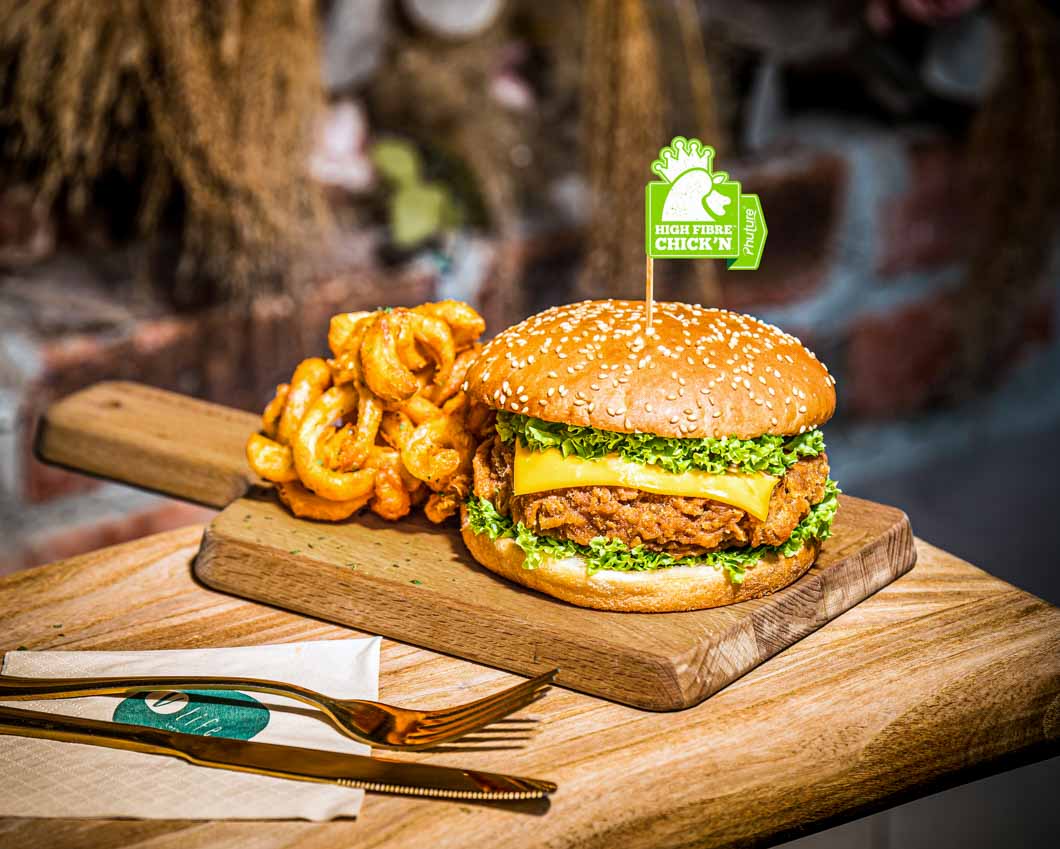 For any plant-based vegan foodies in Ipoh, we've got you covered! V-Life is a local hotspot for plant-based grub, and we highly recommend checking out its Smoky n' Picante Crispy Chicken Burger. This delicious plant-based burger is so good, it's hard to only eat one…
42, Lintasan Perajurit 6, Taman Ipoh Timur, 31400 Ipoh, Perak
6. Bowl Bowl
If you love your rice (who doesn't?), then head to Bowl Bowl for their amazing signature Salted Egg & Buttermilk Bowl that is served with crispy chicken or a plant-based alternative. If you're looking for a different flavour profile, try their unique Longan Sweet & Sour 'Chicken' Rice Bowl, which is just as delicious – and just as meat-free.
Rinse KL, 15, Jalan Damar SD 15/1, Bandar Sri Damansara, 52200 Kuala Lumpur, Selangor
7. Vintage 1988
Vintage 1988 offers a myriad of wholesome meals for everyone to enjoy. They have a variety of vegetarian, vegan and non-vegan options. A must-try is their High-Fibre Crispy Chick'n Burger, featuring a delicious plant-based 'chicken' patty in their signature beetroot bun with butterhead lettuce, red frisee, and caramelised peaches, smothered in vegan mayonnaise and sliced mozzarella.
Vintage 1988, 34, Jalan Sultan, City Centre, 50000 Kuala Lumpur, Selangor
---
Source: Mutant Public Relations Agency