Recently, I had the opportunity to attend a Thai chef masterclass, debut of the #dinewithchef series, at Grand Hyatt Kuala Lumpur led by Executive Thai Chef Supattra Boonsrang.
Chef Supattra Boonsrang is a highly experienced and an accomplished Thai native chef with 40 years of experience in the culinary industry. She has held various positions in prestigious hotels and resorts around the world and has a deep understanding of Thai cuisine and its traditions. She is considered an expert in her field and her passion for Thai cuisine is evident in her cooking.
The class was held in the hotel's state-of-the-art culinary studio, where Chef Supattra shared her expertise and knowledge of Thai cuisine with a small group of food enthusiasts like myself. As soon as we arrived, we were greeted with a warm welcome and offered a choice of beverages and delicious pastries.
Let's cook!
The class began hands-on by cooking roasted duck curry and spicy Thai beef salad, both traditional Thai dishes. Chef Supattra and her team walked us through each step of the recipe, and shared tips and tricks for getting the perfect balance of flavours. She also shared her personal experience and knowledge about the ingredients used in the dish.
I was particularly impressed with the focus on using fresh and locally sourced ingredients, which added to the overall taste and quality of the dishes.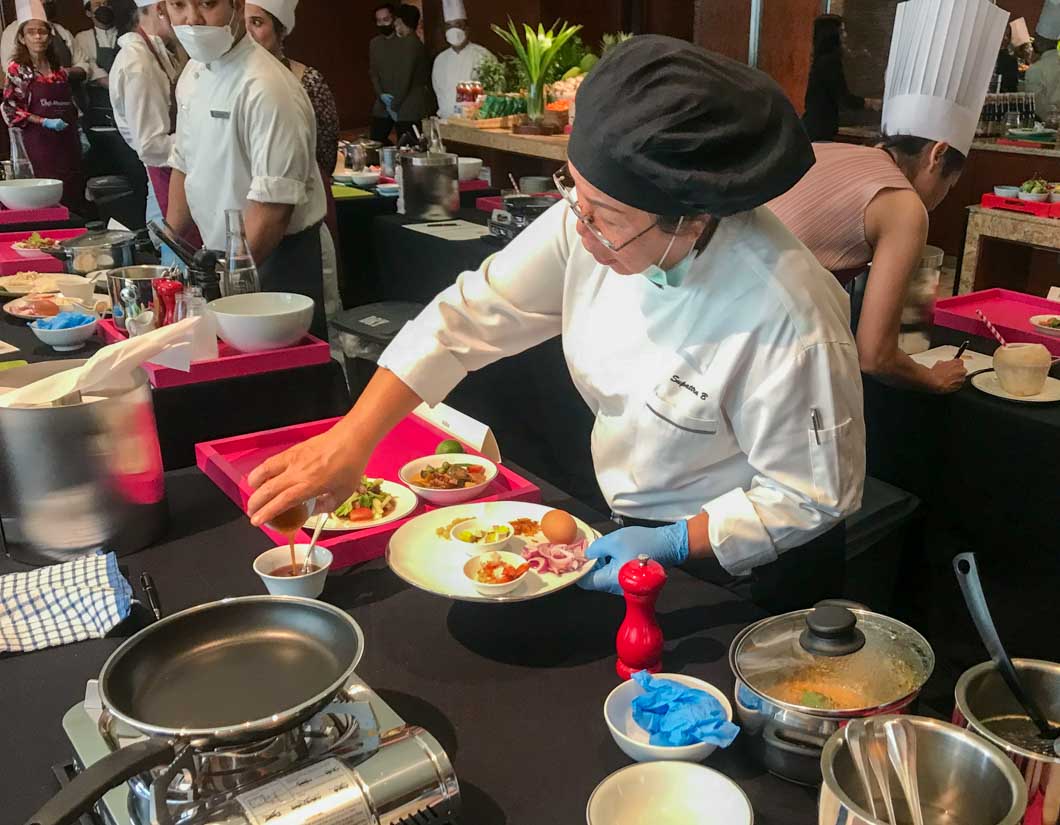 The class was interactive, and Chef Supattra's friendly and approachable nature made it easy for us to ask questions and learn. Her assistant was also always available to help me out and answer my questions as I cooked.
Hands-on learning experience
After we cooked the first two dishes, Chef Supattra gave us a hands-on cooking demonstration on how to make shrimp Pad Thai. She walked us through the process, explaining the important steps and techniques for making the dish. We then got to try our hand at making it ourselves, with Chef Supattra and her assistant available to guide us and answer our questions. It was a great opportunity for us to put into practice what we had just observed.
Next, Chef Supattra gave another demonstration on how to make Tab Tim Krob, a Thai sweet dessert made of water chestnut and coconut milk. We watched her carefully demonstrate the process and the techniques used to create this delicious dessert.
At the end of the class, we all sat down together and enjoyed the fruits of our labour. The food was delicious and we eagerly devoured every morsal. We also had a chance to take a group picture with Chef Supattra and were presented with a certificate for completing the class.
I am looking forward to attending more classes at Grand Hyatt Kuala Lumpur and expanding my culinary horizons. The class was interactive, and the chefs' friendly and approachable nature made it easy for us to ask questions and learn. It was an unforgettable experience. Not only did I learn how to cook authentic Thai dishes, but I also got to understand the rich and diverse flavours of Thai cuisine.
Keep an eye out for future classes
The Grand Hyatt Kuala Lumpur offers a wide range of culinary experiences, and it's exciting to know that they have planned to offer more masterclasses this year, led by different chefs from various countries in the future. These classes will give participants the chance to learn new skills and techniques, and to experience the flavours and traditions of different countries and cultures.
More info here on the hotel's FB page. Please keep an eye out for future classes!
We were invited by Grand Hyatt Kuala Lumpur. As always, our opinions are honest and our own.