Bagan is maybe the most iconic place in all of Myanmar. We were expecting greatness but were blown away by the sheer crazyness of this place. As soon as your taxi exits the airport grounds, you can spot hundreds of temples and zedis scattered around everywhere you look. The recent earthquake in Bagan damaged hundreds of pagodas and the bustle of tourism has apparently turned into a major effort to clean the rubble and restore these magnificent buildings. The post and photos are pre-quake – I recommend you read this article by the BBC for the latest on what it's like on the ground. It also suggests that the quake might have silver lining: most of the destroyed parts were those hastily built by the military junta, and careful restoration could see Bagan finally on the UNESCO Wrold Heritage Site list.
Visiting the temples of Bagan with kids
We rented out electric bikes – or mopeds, really – on the street outside the hotel. These funny little mopeds were very, very cool and the kids loved sitting in the back and zooming on the dirt tracks between the temples. Many families seemed to rent out horses and carriages: this is probably a nice method of transportation with toddlers too young to be sitting in the back of the moped, but the carts are very slow and bumpy. With the e-bikes we could easily roam the plains and change our plans when a temple we wanted to see was swamped by tourist buses or we got tips from local sellers or guides on better view points and hidden rooftops.
If you are serious about the temples you need to make a plan on what order to see them. We took a more relaxed approach and just set off on our scooters, spotted an interesting one, climbed to the roof and chose the next one and headed that way. The Leap&Hop guide for kids lured the kids into temple spotting and prolonged the time it took them to be templed-out.
Thanks to the dusty and grey skies we didn't get to experience one of those tourist brochure magical sunsets. The best and most famous sunset watching spots start getting crowded well before sunset, so be early if you want a front row seat. If you want to experience the magic away from the crowds, search the internet and you'll find excellent travel bloggers who have mapped out the best spots. This is as close to a sunset we got, but we only had to share it with two other people so we consider it a win: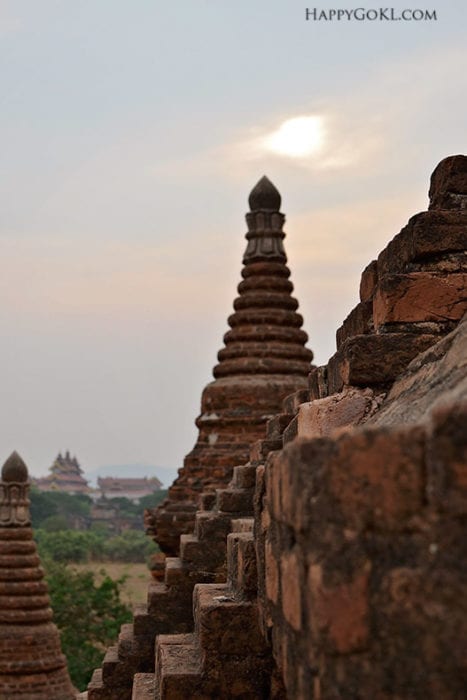 All the temples are beautiful. Some are big and beautifully restored, some crumbling and in dire need of TLC. The most famous are busy with vendors, groups visiting on tour buses and kids asking for foreign coins as souvenirs. We loved the ones where you could climb up some dark stairs with the guidance of a key holder, who would normally appear from somewhere when we scooted in. Sometimes a tip or a purchase of artwork was expected, sometimes a tip was refused – go figure what the etiquette is!
Touring the temples is hot and dusty so come prepared with hats, sun screen, plenty of water and snacks. Many of the temples have vendors with cold drinks. You need to leave your shoes outside, so wear flip flops or other easy shoes. The rooftops can be very hot, so beware with kids when on top.
Lacquerware in Bagan
Lacquerware is a Bagan tradition. Tour buses have created a souvenir market to suit the demand, and much of the lacquerware and other crafts are not made in Bagan anymore, leaving many local craftsmen fighting a loosing battle for a share of the market. We randomly chose a lacquerware workshop from Tripadvisor, and got lucky. Jasmine Family's workshop is on a small side street near Manuha Temple. It is now on Google Maps too – or you can ask anyone in the neighbourhood for the right house.
Behind the rickety gates you get to see the cumbersome process of how these elaborate pieces of art are made. We were more than happy to shop in their little showroom – while you are not required to buy anything, it would be a tad rude to get the tour and leave. Based on a very quick look at the prices in other shops the Jasmine rates are very reasonable. They sell both items made in their own workshop, antique pieces and some pieces made by other artisans. A lot of work goes into these pieces, and the prices are in line with that.
Where to eat in Bagan
It seems like new restaurants open all the time. In between temple hopping, we ate at the Star Beam, which was simple and ok but the setting next to Ananda Pahto is very nice. We also tried the outlet in New Bagan, again fine. Naratheinkha Restaurant near our hotel was also nice with outdoor seating and something for everyone on the menu (=pasta for the kids!). However tempting, I would not eat off the street!
A local treat the kids discovered was tamarind flakes – sugary dried pieces of fruit wrapped in paper, a perfect snack, available in every corner stone and seen in this photo as a prized possession:
Where to stay in Bagan
We were traveling during the hottest time of the year so wanted a hotel with a pool – but without the heavy price tag of the fancier hotels – so ended up in Arthawka Hotel in New Bagan.The kids enjoyed the small pool and our room with two queen beds was simple but clean. We did not find it difficult to scoot back to New Bagan (about 20 mins on our electric beast), but if you have a very flexible budget, there are some beautiful hotels on the riverside nearer to Old Bagan – some even have pagodas temples on the grounds.
Read also our post on the basics on traveling to Myanmar.