I watched Ola Bola, a recent Malaysian football film, with two football mad boys, aged 8 and 6. This is what we made of it:
 #Review by SD, aged  8
Ola Bola is a movie about the Malaysian football team in 1976. At first, they were not very good. They didn't know how to work together.  When a new coach joined, it got worst because he moved the players around and even threw out the star player. It was a disaster. They lost to South Korea 6-1 and so many other teams. After some time, they got better. They got better because they realised that they needed to work in a team and all players are important. The players had to be very, very disciplined and motivated. They trained  very hard but at least, they got to train in very beautiful places all over Malaysia. There were some very green hills that they had to climb which was very nice.
In the finals, Malaysia managed to beat South Korea 3-2 . What a victory! What a goal!  However, it was sad because Malaysia boycotted the Olympics that year and the team could not make it to the Olympics although they qualified.
I hope that my friends and I can train hard enough to play soccer and win. We will get better if we work together! And I hope the Malaysian soccer team now gets as good as this team.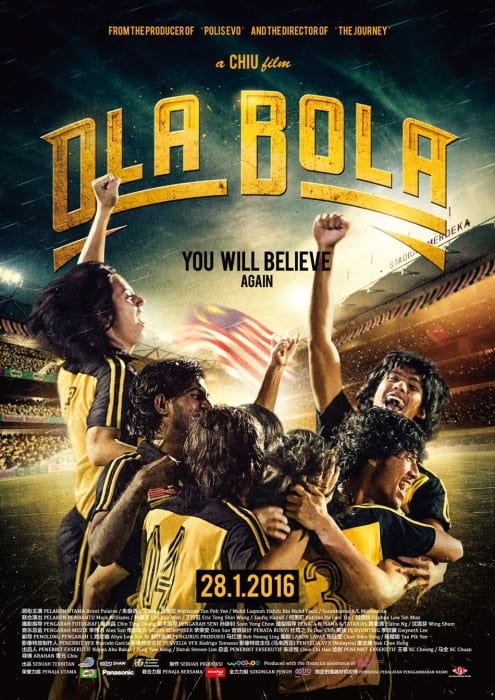 Photo: Official site of Ola Bola
#Review by Mama
Ola Bola is a rose-tinted football movie, a trip down memory lane to Malaysia in the 1970s. It is really worth a watch as it captures an emerging nation and its young people. We journey with the soccer team as they grow in confidence and become a strong team. There are endearing insights into the families of some players which was a real delight because it highlighted daily Malaysian life a long time ago when agriculture was the main economic staple – including manually processing and drying rubber as well as coconut picking in a coconut plantation. Surely, a big contrast to today's economy that is fueled (no pun intended!) by oil and gas.
I particularly liked the mixing of vernacular language – they spoke like how Malaysians speak-lah and did not succumb to to sanitising the English.
The movie has been criticised for failing to accurately capture the real historical details of the national football of that time – but at the end of the day, the creative license pays off and it is a few hours of rousing entertainment and some laughs. The soundtrack is also charming.
While Ola Bola no longer is screened in all cinemas,  do try to look it up or watch it when Astro brings it to your living room.  It's a light and nice introduction  to Malaysian life a long time ago. It certainly inspired my boys to play more soccer!