Think vibrant but classy colours with local flavours, high ceilings and family treasures and you get an idea of the home of Amy, founder of the Batik Boutique. Amy and her family, originally from the United States, made this airy semi-detached house their home after seven years and three houses in Malaysia. "I like a clean and simple, but yet homey style. A home is meant to be enjoyed", she says.
"I was in the middle of moving houses, getting the kids settled in their new schools, working and having visitors over. I was so busy and needed a space that was in order and decided to outsource the house bit. I had never used an ID professional before, but could not have been happier with what Suzana did. She took what we already had, refurbished some things and worked within my budget. I would warmly recommend her. She even brought her own people put the paintings on the walls – without her it still would not be done!"
"I am not much of a shopper. You need to have a place for everything – if not, don't get it. I was so happy with what Suzana did with the house that I haven't had to add many things. The inspiration for colours came from the painting I got as a housewarming gift from a friend. It has a lot of thought and meaning in it: initials of all of us and blessings are hidden under the many layers. We didn't bring many things with us from the U.S., but over the years I have carried over some things with a special meaning, like the silver tea set that has travelled across the Atlantic ocean with my husband's grandparents from Scotland."
Amy's love of batik and other local flavours is visible throughout the house. In the hands of Suzana an Ikea lamp got a batik shade, and an old footstool was reborn with a bright terracotta batik cover.
"In the U.S. I would shop in thrift shops but here it's not as easy. I love how Suzana managed to find some great second-hand things for us. I like it when things in my home have a story."
Amy used to travel a lot for work when I she was working in tourism industry and brought back mementos from her trips, like an Afghan rug they have hung on the wall.
"The red chest of drawers is one of the things Suzana refurbished. The round footstool is from Morocco and the red footstool is another old piece covered with batik. The family room is probably my favourite place in the house. I open the windows and enjoy the view of green hills and the mosque in the distance."

You understand well why Amy's visitors may not want to leave when you see the top floor guest room, that is actually the master bedroom of the house. The gorgeous room is one thing, but an in-room Nespresso machine takes to another level. A latte please, with lots of foamy milk on top!
"The guest room decor is my favourite. I would live up in the third floor bedroom if the kids could be on the same level. We found the window in a second-hand shop in Penang and used it to frame beautiful hand-made sheets of paper from India."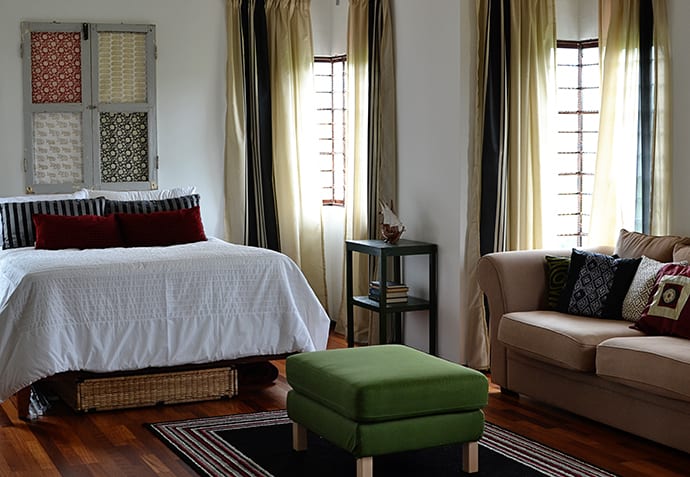 The quiet corner lot has a lovely green area on the side, where Amy and the kids have lunch on overcast days and kids have plenty of space to run around.
Curious to see other homes in KL? Have a look here!
Studio Eclectica
Suzana Ahmand
studioeclectica.my@gmail.com
Tel.6012-2025674