Our little girl turned 5 at the end of March. Because we couldn't throw her a big party due to the pandemic, we decided to bring her and her best friend to a little kids pampering session at Jac & Ivy. You'd surprised to find out how 'vain' 5 year olds can be!
First Kids Spa in Malaysia
Jac & Ivy is a nail spa located in Plaza Damas, Sri Hartamas and has the first kids spa in Malaysia. We were initially a bit wary about bringing the kids to a nail salon, as we were well aware that the number of Covid cases in Selangor were pretty high. However, our worries were cast aside the moment we got there. All the SOP's were in place – temperature checking, sanitising of hands, mask wearing, number of people in the premise at one time. Before entering, we were even sprayed from head to toe with disinfectant from a special spray machine they had!
As soon as the kids entered the place, they squealed in delight as they saw the cute kids spa section coupled with all the colourful nail polish on display. They couldn't wait to begin. The staff ushered them to the comfy chairs and brought them cute kiddy bath robes to wear over their clothes. I opted for the mini luxury spa manicure and pedicure (RM165) for them (it was a pampering session after all!).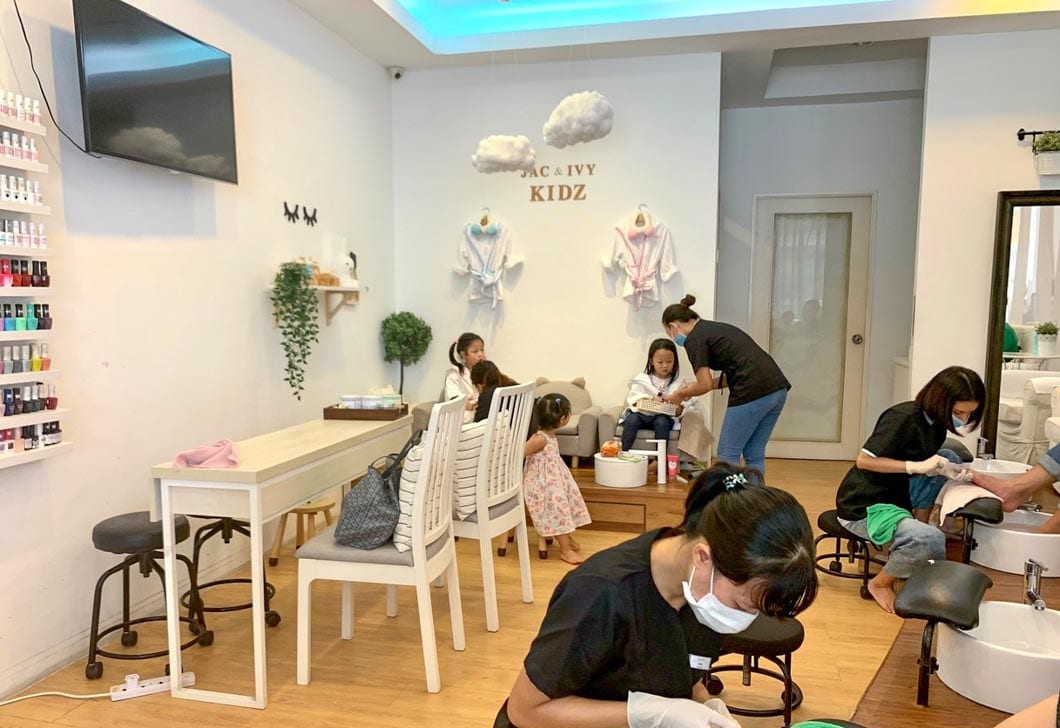 Let the pampering begin!
The staff began by giving the kids a nice warm foot soak. After that, they started trimming their nails and shaping them. The package came with a choice of facial or hand mask. My daughter didn't fancy the face mask, so opted for the hand mask while her friend had the face mask. They were also given a gentle hand and face massage after the mask was applied. All kids products used are from Puttisu, which is a Korean kids cosmetic brand that uses non toxic ingredients and is 100% kid friendly. Puttisu nail polish is 70% water based and doesn't contain any harsh chemicals.
After the mask came their favourite part: choosing their nail colours! First they applied the base coat, followed by the colour of choice (my daughter opted for a different colour on each finger and toe). It was finished off with a top coat, so the colour stays on for longer. After ensuring their nails were dry, the kids were given Ribena in plastic champagne glasses. Talk about fancy! Everything was done very gently and professionally in a very cosy environment. The staff were all super friendly and attentive to the kids needs, making sure that they were comfortable the whole time and ensuring their nails were done perfectly.
All in all, it took about an hour for the session. My two year old daughter also wanted to join in the fun, so she got an express manicure and pedicure (RM25 each) and she sat still the entire time. Thanks to the staff who was super gentle and engaging!
Oh, did I also mention that while waiting for the girls, the mamas also managed to squeeze in a relaxing pedicure too for RM60? The adult spa section had a clear view of the kids spa section, so we really didn't have to worry about a thing while we were getting our pedicures done as we could see what the kids were up to. Such a win-win situation!
My daughter couldn't stop telling her teachers and friends in school about her experience so suffice to say, it was definitely a memorable birthday experience for her.
Some tips
Jac & Ivy is located at 3, Plaza Damas, A-0-2, No.63, Jalan Sri Hartamas 1, Kuala Lumpur. They are open every day from 10am onward. The nail salon isn't extremely big and it does get quite busy, especially on weekends, so it is advisable to make a booking in advance.
The Kidz Spa is for kids below 10 years of age. They also have party packages available for kids and ladies if you plan to have a pampering party. There are parking lots right in front of the shop, or alternatively you can park in the basement car park too. Check out the website here for more info on their Kidz Spa.