While I am still dreaming of a family trip to India, I am happy to share a guest post from my friend Jay. Take a comfy seat and enjoy the ride to Chennai:
It rained almost every evening when we were in Chennai. We stared at the windows as the gun-metal skies greeted us with torrential lashings. I was reminded of the famous classical Tamil poem Red Earth and Pouring Rain, 'But in love our hearts have mingled as red earth and pouring rain'.
Rainy Chennai with two energetic children would have been a recipe for disaster –but the rain was surprisingly calming and cooled down the heat of the mornings. We played lots of board games, drank copious amounts of chai and enjoyed the gorgeous views of the Bay of Bengal from the lobby of our hotel, the fabulous Leela Palace.
The Leela is truly an oasis in a rambling city, and the minute you step in, you automatically slow down and relax. Every pillar and sculpture in the hotel have been selected with an eye for detail and the property is dotted with an enviable collection of paintings from established and emerging Indian painters.
Shopping and Getting Around in Chennai
We were in Chennai in the beginning of the Tamil month of Aadi (July) and headed to T Nagar, the main shopping artery for the Aadi sales. We enjoyed ambling down the shops and I even managed to get some exquisite silks going for a very good price. But as the Aadi heat hit us, we did a run to some of the malls in the city. There are several large malls scattered around the city. What I found interesting is how the modern malls sit along the more traditional shops, marking the rise and rise of the Indian middle class.
The easiest mode of transport will be via auto, the ubiquitous three-wheeled vehicles that ply the city. Also of fascination are the large cinema posters pasted around the city. Chennai is home to Kollywood – after the district of Kodambakam, the South's answer to Bollywood.
Culture
There are several stunning South Indian temples in Chennai with towering gopurams (minarets). We managed to go to the Kapaleeswarar temple in Mylapore and Vada Palani. Kapaleeswarar dates back to 7th Century AD and is dedicated to Lord Shiva. Mylapore by itself is a fascinating enclave, home to hundreds of places of worship. It is also the musical pulse of the city during the December music season where many Indian classical music performance take place. Lots of culture for the children, who soaked up the atmosphere.
Food
Our days started with a hearty South Indian breakfast consisting of vadais, pongal, sambar and various types of chutneys. Vegetarian is the way to go here – either at Saravana Bhavan or Sangeethas. The variety is astounding and I could eat the crispy laced Thosais all day. We did go a few times for amazing meat biryanis at the highly recommended Talapakati.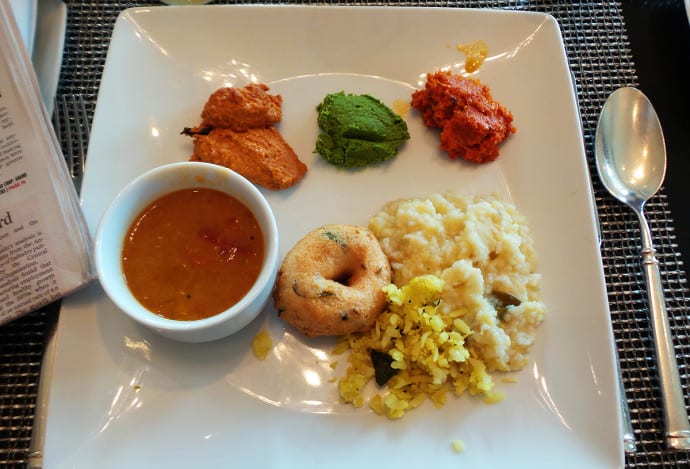 Verdict?
Chennai is not exactly child friendly – or maybe pedestrian friendly because there are no real pavements to walk on the roads. But having been to several Indian cities now, it is really lovely to have children genuinely welcomed everywhere. There is not much of a murmur when there is a toddler tantrum in a crowded restaurant. As I tried on numerous silk sarees, my children were treated like mini royalties, given special chairs to sit on, plied with sweets and juices and regaled with questions about their important lives (How old are you? Where is your country?) I am glad that this was just for short bursts because I wouldn't want them to get too used to such treatment on a regular basis!
Will we go again? Yes, definitely.